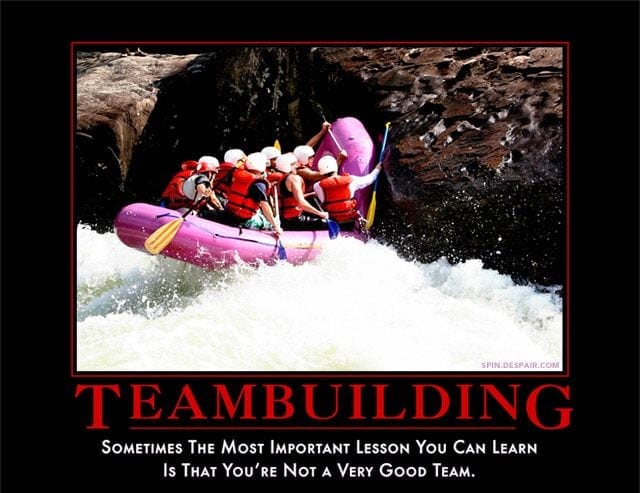 Team building experiences…
The trust fall where someone got dropped…
A ropes course where the rope broke…
Yet another "Zoom happy hour" extending your workday away from your family…
You know the examples from your own experiences. Someone (HR? the manager? a sadistic teammate?) has a great idea for a team building activity. The intention is usually positive, to bring the team together to get to know each other better so they can work together more effectively. Unfortunately, sometimes the result is a good idea executed poorly. Other times it is a bad idea that never should have happened.
The issue often is not the activity itself, but the context of the activity. Before picking something to do, start off by understanding the reason for it in the first place. If the purpose of the activity is to have fun or simply fill time in an agenda, find out from the team what they like. You can take it a step further by having members of the team alternate finding activities for the group. The team may actually enjoy a Zoom happy hour, or a trivia game, or one of these fifty ideas. However, when you need to take team building to a different level, a little more planning and thought is needed.
 Companies interpret the definition of 'team building' as simply doing something fun outside of the typical workday setting—rope courses, cooking classes, baseball games. When the focus is not defined or is social rather than building teams or experiential learning, team building will not occur.

Anne Zeitelhack, Executive Board Member CBIZ Women's Advantage
So what else are teams missing?
Building an effective team requires specific skills that can be learned and practiced. Group problem solving, constructive conflict, and personal energy management are just a few. By bringing in activities that reinforce the skills and behaviors relevant to your team, you help them be more effective at meeting their team goals. Not only that, but you can also enable them to have a good personal experience with their teammates. Here are some great examples of specific skills and related activities: The Truth Behind Why Team Building Is Important In 2021.
In my practice, I use a 30-question anonymous survey from each team member to get an understanding of the strengths and areas for improvement for the team. The quantitative survey results provide data yet do not tell the full story. Interviewing the manager and even team members brings another qualitative perspective. What is still missing is to see the team in action. That is why I choose to use an escape room (virtual or in-person) as an early activity for any team.
Why escape rooms?
Regardless of the scenario, an escape room challenges the team with a group problem solving effort against a timed deadline. Usually requiring different perspectives and skillsets, the puzzles and mysteries are fun to solve with varying degrees of difficulty. The need for the team to self-divide for specific elements while still collaborating across multiple activities is a good proxy for how things get done in the work environment.
Whether the team escapes the room in time or zombies takes over the world, the people have fun. Connecting the shared escape room experience with the other data points helps me target the right additional steps for the team. It also gives very clear examples of team behavior that everyone can discuss. This can then turn into agreements on norms on what the team wants to do more or less of in the future.
When you begin planning your next team building activity, be sure to think about the skills and behaviors needed to develop in your team. You can then find something that the team will truly enjoy while targeting the right areas to help you build a high performing team!
Do you have a team building example to share where things went really well…or really badly?